APPRECIATING THE LOCAL COMMUNITY
Laurel is an historic railroad town and the hub of rail commerce in Montana. In addition, Laurel is the home of CHS, one of the oldest refineries in the state. Turnaround refinery workers and employees of Montana Rail Link will appreciate extended-stay benefits with special rates at the Locomotive Inn.

Here at the Locomotive Inn, we are within walking distance to Montana's largest Fourth of July celebration which includes, all-day-long activities concluding with an amazing fireworks display. We are a great choice for a holiday weekend or to simply get away from it all – no matter your needs, we have it.
AT THE HEART OF A MEMORABLE VACATION
Yellowstone National Park is something everyone should see at least once in a lifetime, and our location is the perfect place to stay while discovering the beauty of this region. Let us be your home away from home as you discover the beauty of the Park. Just 15 miles west of Billings, Montana, we are right on I-90, at exit 434 in Laurel.

Beartooth Pass near Red Lodge is just minutes away, as is the Chief Joseph Scenic Highway. From rodeos to concerts, there's plenty to do beyond Yellowstone, too. The Locomotive Inn is the perfect tourist location for day trips to the Little Bighorn Battlefield, Yellowstone National Park, the Cody Buffalo Bill Museum, and the Red Lodge Mountain Ski Resort. We are only 10 miles from Zoo Montana; home of 100 animals including red pandas, tigers, and a sloth.

History buffs will appreciate the bronze statue of Chief Joseph in Fireman's Park drawing attention to the Canyon Creek Battlefield where the Nez Perce fought the US Cavalry then escaped up Buffalo Trail. The patriotic heart of this community is evident in the new Veterans' Cemetery.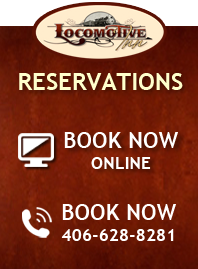 Toll-Free Number: 877-210-5626
CITY DISTANCES
Billings - 15 miles E
Bozeman – 125 miles W
Bridger – 25 miles SE
Columbus – 25 miles W
Hardin – 75 miles E
Livingston – 100 miles W
Miles City – 165 miles E
Red Lodge – 44 miles S